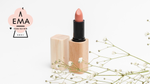 EMA Beautiful Life Guide by Estonia's seasonal magazine EMA. 
The EMA Beautiful Life Guide provides options far from quick pleasures that have a shiny exterior but are hollow on the inside. This year's guide highlights aspects and concepts that stand out with thought and care towards nature. This can mean sustainable production methods, honest attitudes, support for parents' mental health, functionality, sustainability, health, quality, but also a family- and baby-friendly atmosphere. 
EMA Beautiful Life Guide picked a few products from a couple of sustainable ventures in their article. HAVU lipstick made its way to the guide with biodegradable packaging as a fascinating, futuristic finding. We are so happy to get credit like that!