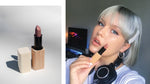 HAVU Cosmetics' new nude lipstick is a green choice for every occasion this autumn! 
As September is here and many are returning to school and work, now's the perfect time to give your makeup bag a little update. If you're considering adding some eco-friendly cosmetics to your makeup arsenal, we've got some good news for you: HAVU Cosmetics has just added three new autumn shades to their lipstick collection! Today, we're here to help you figure out if one of these new shades might be the perfect green choice for your autumn 2020 look!   
In this post we'll take a look at the new nude shade SAND. We asked our customer Kira to give a little review on the new lipstick. 
HAVU's newest addition to the nude lipstick collection, SAND, is a cool shade with hints of brown and mauve. Giving a semi-matte finish on the lips without feeling heavy, it's the perfect choice for a daily nude look. 
Inspired by the colours of the Finnish nature, HAVU aims to create simple, earthy-toned lipsticks that enhance the user's natural beauty and fit multiple needs and situations. A versatile shade, SAND definitely ticks off these boxes: it can easily be styled up or down depending on your mood and the occasion.  
Kira uses the latte shade to give a simple, trendy finish to her everyday look, as it goes well with her black and white wardrobe. Makeup-wise, she says the colour matches both cold and warm toned eyeshadows, which makes it an effortless choice for everyday use. "Pro tip, this thing works like a dream with a pink and nude eyeshadow palette and with a little lip gloss on top!" 
HAVU lipsticks are made with natural ingredients only, which means you can wear them without worrying about dry lips. Kira says she's happy with the pleasant feel of the lipstick: "My lips usually get very dry from wearing lipstick, but I've worn this every day since I got it and my lips still feel super soft." The biodegradable wooden case also gets praise: "It creates a lovely Nordic luxury feel to my day." 
Whether you want to add some subtle elegance to an evening look or go with a simple, bold nude, SAND has got you covered. It is truly a shade you can use in any way that feels comfortable to you! "I wear this lipstick both when I take out the trash and when I want to feel like a newborn Kardashian sibling. It's the perfect nude shade for that modern matte look."