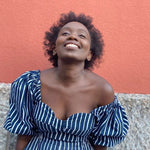 June 2020 blog: Sharing life, love, faith and fashion! By Olivia Nangula.
"I originally came across their brand through Instagram and then a few weeks ago I was asked to model for them, which I couldn't resist. HAVU products are 100% biodegradable and made of natural ingredients, so not only are they good for your skin but also for the environment. Once you've used up your lipstick, you can throw the container into your bio-wast bin. How cool is that?" writes Olivia.
"Wearing the dark HAVU Cosmetics lipstick in this photo. The Dark is literally the nude color for me and I love it!" says Olivia.
Read more about the post here.